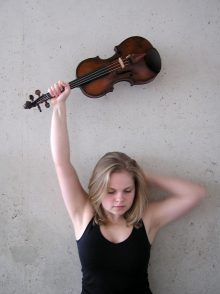 The Viola Spaces
aroused a great deal of interest from a great many string players, not just violists. In response to this,
Garth Knox
is currently writing a set of
Violin Spaces
, new concert pieces for solo violin based on the ideas found in the
Viola Spaces
.
The pieces are being written for Diamanda Dramm, an exceptional young Dutch violinist, who is closely involved in the elaboration of the pieces, and in this project. To date, six studies have been more or less completed, and the full set of eight should be completed before the end of the year. Watch this space to see their development.