Air and Ground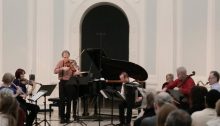 For viola d'amore and 5 instruments (2016)
Commissioned by the Concorde Ensemble, premiered with them in Dublin.
Satellites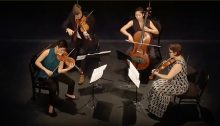 For string quartet (2015)
Commissioned by the Kronos Quartet, here played by the Argus Quartet.
Nothing but the Truth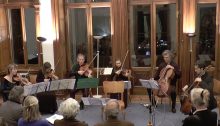 For string sextet (2014)
Commissioned by the Camerata Variabile, premiered with them in Switzerland
Exists in two versions, one with a sad end, and one with a happy end.
Stranger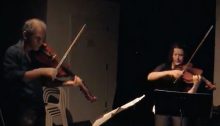 For viola and viola d'amore (2013)
commissioned by Melia Watras, and featured on her CD
here played live with her at The Stone in New York.
Three Weddings and a Fight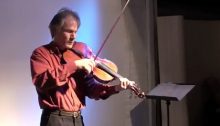 For solo viola (2013)
Based on  three authentic old Danish wedding tunes
Sheet Music below
Wild Animals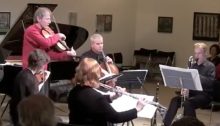 For viola, flute, clarinet, violin and cello (2011)
Commissioned by the Concorde Ensemble, premiered with them in Paris
The Weaver's Grave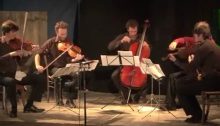 For string quintet (2011)
based on Irish folk themes and the novel by Seamus O'Kelly
written for and premiered with the Quatuor Bela.
Fuga Libre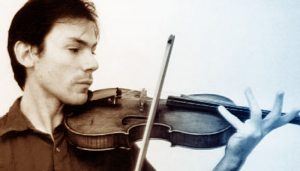 Ockeghem Fantasy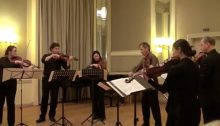 For viola d'amore and five violas (2008)
"Ockeghem Fantasy» is based on a three-part song by fifteenth century composer Johannes Ockeghem (15th Century). The piece begins with a freely improvised cadenza, and throughout the Fantasy, the viola d'amore has the freedom to add short improvisations, ornamentations or commentaries, as suggested by the title. The role of the five violas at the beginning of the piece is to represent the sympathetic strings of the viola d'amore, and they sit in a line behind the viola d'amore, playing simple resonances of the solo part. However, they soon begin to assert their independence…
La Valse de la Vineuse
for viola d'amore, clarinet, violin and cello  (2006)
inspired by the village hall in La Vineuse, France.
A piece which tries to capture the atmosphere of a village dance, including the scraping of feet on the open dirt floor, and the dialogues of the newly formed couples.The final walz is the slightly rowdy small scale climax of the evening, after which the villagers go home and leave the barn empty again.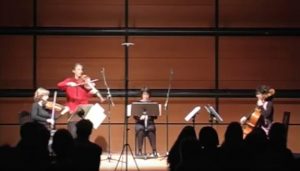 Malor me bat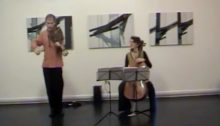 For viola d'amore and cello (2004)
Jonah and the Whale
For viola and tuba
Written for Gérard Buquet, tubist and friend. The idea came to me to write a piece for the seemingly outrageous combination of viola and tuba based on the story of Jonah and the Whale as told in Moby Dick by Hermann Melville. It struck me that the viola could portray the character of Jonah, a frightened fugitive on the run, and that the extraordinary seascape sounds that Gérard could draw from his tuba could conjure up a very convincing whale.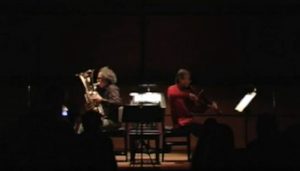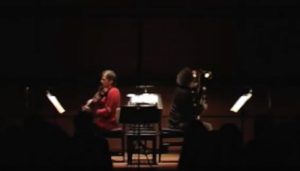 Marin Marais
Live at the ZKM, Karlsruhe Germany
10th january 2008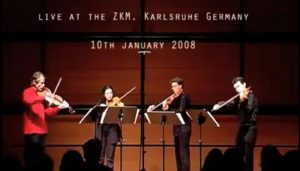 ---
Partitions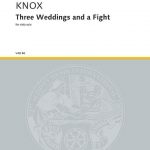 Partitions available from Schott Music
---